Wed, Jan 16, 2019 by Lynsey H.
It's a new year, and even though you might still be the same person that doesn't mean your bedroom needs to stay the same. It's easy to put off re-designing your bedroom since it isn't on public display like your living room furniture. But why let your 2018 bedroom mistakes carry on into the new year? Here are five bedroom mistakes you can avoid in 2019 so you can sleep in peace.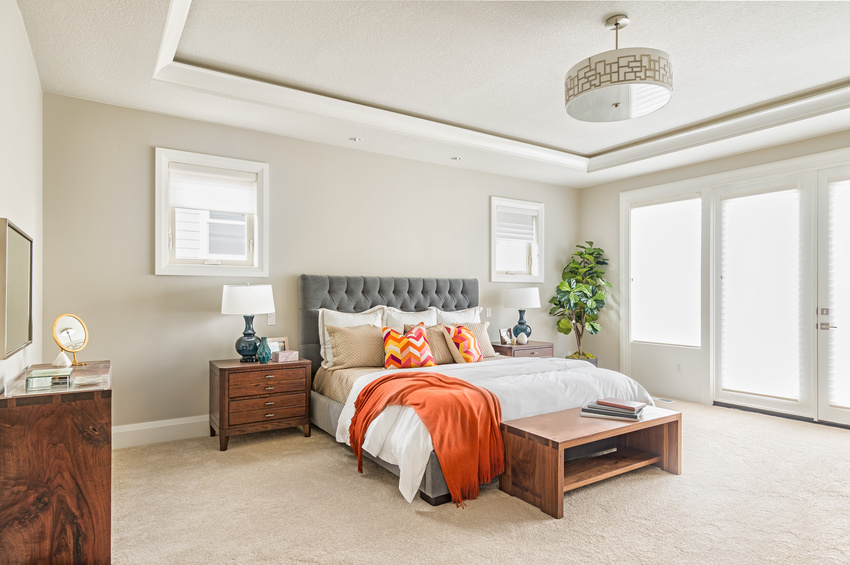 Placing your area rug at the wrong end of the bed. This is one of the most common bedroom mistakes. Many people will place area rugs at the end of the bed when it ought to be beside it. This is because you climb in and out of your bed from the side. If your area rug is at the end of the bed then your feet won't get to appreciate it in the morning.
Not having a good spot for your phone. Sleep experts recommend that you don't sleep next to your phone because it can keep you up at night. But most people do sleep next to their phones because they serve as an alarm clock. Compromise by keeping a bedside table or small shelf by your bed so your phone is next to you but it won't get lost in the sheets.
Backing your bed into a corner. A lot of people automatically push their bed into a corner. But if you have a designated bedroom and not a studio apartment, don't be afraid to make your bed the star of the room.
Blocking your windows. Not all walls in your space are created equal. Your bed doesn't need to be a corner, but when you place your bed in front of your windows you can actually make your room feel darker and less inviting. Try to place your bed against a solid wall so you can let in lots of natural sunlight.
Using the wrong bedside table. Whether you use a chair from your dining room furniture or an electric vintage decor piece as your bedside table, it needs to be the right height and the right size. If you're struggling to keep everything on the table you're using, you might want to consider getting something with drawers instead.
Furniture is usually the third most expensive thing a person will buy after a house and car. So why compromise when you're re-designing your bedroom?
Design Kollective offers a wide range of vintage furniture and boutique furniture so you can be sure to find something you love. To learn more about our furniture collections and decor, contact Design Kollective today.